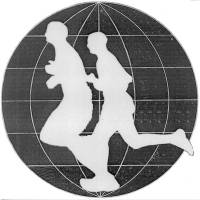 Introduction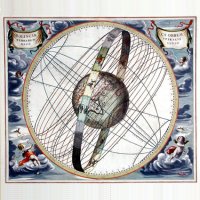 Principles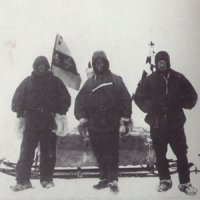 Runners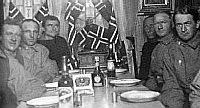 Media

Route Info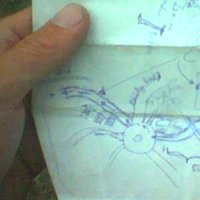 Progress Map
Event Calender
Links
World Run I / Reports
Goto:

2005-10-11

2005-10-13

Ireland

2005-10-12:
Distance today: 42.0 km (Accumulated: 25773.0 km)
Country: Ireland

2005.10.12 -
. Ireland.

42km, 4:08:11h. Excl. food, water, road-finding, toilet etc. stops
Total 25.732km

Start: 11:17am.
Finish: 16:30pm.

+10c, almost overcast and light wind at start.
14c and same at finish.


A very good day on the Irish roads. I enjoy the relaxed an unassuming
attitude of the Irish :-) They take time to enquire about the World Run
when I run by, and are unimpressed yet exited :-))

As yesterday I will now leave the words to Tony Mangan; my good and very
dedicated crew across Ireland...

Tony Mangan:
"12. Oktober; Dunkerrin, Offaly County:

The World Champ had a lie in this morning till 9am. I had breakfast but he
never does - Preferring on an extra half hour in bed. While I was eating my
last part of breakfast the Great Dane was down in the local Vodaphone shop
(in Limerick where we overnighter) trying to sort out a problem with his
telephone signal. He cant get to transfer the pictures etc. on to his
website as he use to do every hour of his running.

Back at Birdhill where we had left off the previous day Jesper was saying:
"It sure is a long way to Tipperary, about 26 000kms!!"

It was a slightly warmer day - Dry but windy. Though the N7 road was busy
it was wide with a great hard shoulder. At 11:15 the second stage of the
World Run, Ireland, started. Jesper set off with a nice steady pace. He got
cheered by some construction workers along the road.

Several times today I was able to park the car ahead and run back to him to
run a couple of km with him. Today Jesper was strong - though obviously
tired hes holding a lot of effort back, I feel. He understands his body and
soul, and said that after a couple of days with low km he needs to ease
back into the long daily stages which he will need to do until London.
...."

- Tony has much more to tell, but I (Jesper) need to go to bed now, and
will type in the rest of Tonys report in tomorrow. The run still is the
main priority, but I promised you wont be spared of his way too generous
image of me as a runner (basically I am just a runner like anyone else;
only very inspired in what I do :-)



Ireland schedule:

11. Oct. Arrival at Shannon Airport, West Coast.

16. Oct. Dublin, East Ireland.


U.K. schedule:

16 Oct, Arrival from Dublin, at Liverpool John Lennon Airport.

17 Oct, 47.4km,
Start at the Harbour, West Coast of the UK.
Arrive, Duddon, Bulls Head Public House.

18 Oct, 101.2km (cumulutative distances),
Arrive, Stoke on Trent.

19 Oct, 155.2km,
Arrive, Derby Service Area.

20 Oct, 206.6km,
Arrive, Kibworth.

21 Oct, 250.4km,
Arrive Kettering Travelodge (junction 13).

22 Oct, 303.4km,
Arrive Baldock travelodge - (roundabout prior).

23 Oct, 389.1km and 26 000km total,
Greenwich, London; at the 0-Meridian Line.






Reports

E-book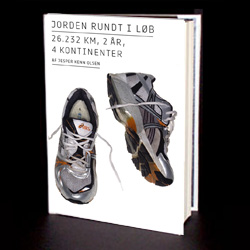 World Run book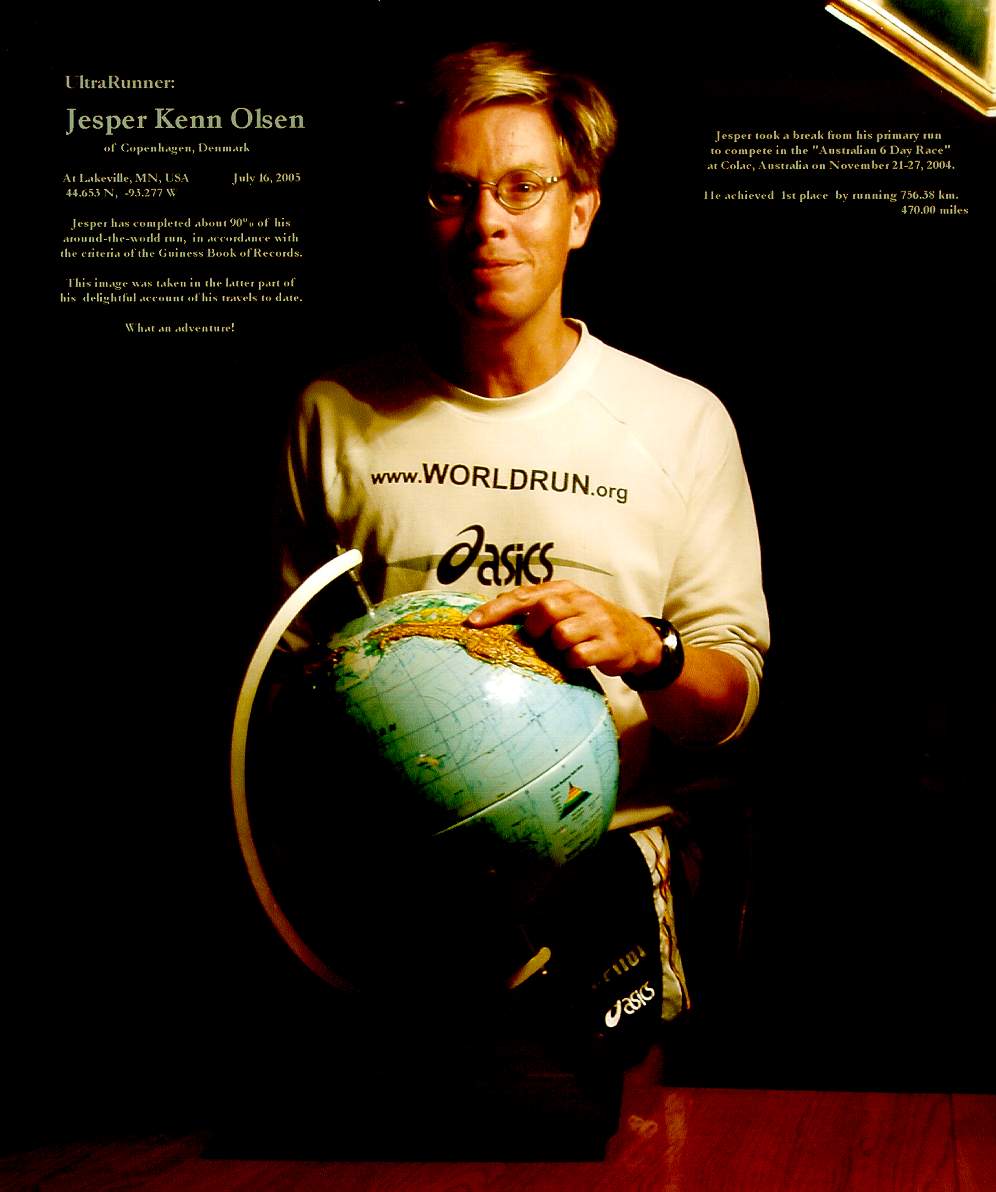 Lectures in english
Foredrag på dansk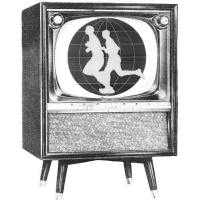 Media Coverage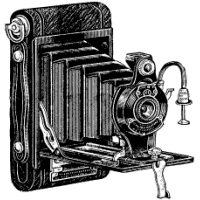 Photos