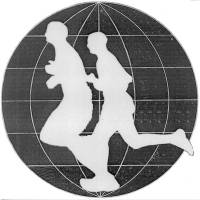 Introduction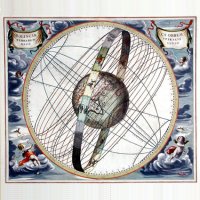 Principles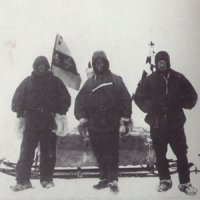 Runners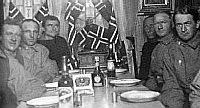 Media

Route Info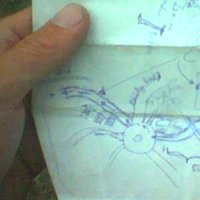 Progress Map
Event Calender
Links
World Run I / Reports
Goto:

2005-10-01

2005-10-03

USA
2005-10-02:

10
Distance today: 24.0 km (Accumulated: 25584.0 km)
Country: USA

2005.10.02. - cross of Route 57 & Route 31>. New Jersey!

24km, 2:03:34h. Excl. food, water, road-finding, toilet etc. stops
Total 25.543km

Start: 09:43am.
Finish: 12:47pm.
Time GMT - 6 hours

+20c, clear and light wind at start.
24c and same at finish.


Again I had a day with great support by both runners and crew.

After the finish I am staying with Kurt who ran with me the last part of
todays stage & two days ago. He has been doing martial-arts for 29years
and by now owns his own martial-arts school !

- We had an interesting talk about the similarities in mental approach and
training principles; its always a pleasure to meet people who have a
passion for their work and there was much that I could relate to long
distance running and learn from :-)


Preparation
By now the planning of the last stages in Ireland and the U.K. are well on
their way. Below I have pasted the plan for the stages in the U.K. which
Mr. Phil Essam from the Australia (which has been a HUGE help throughout
the entire run) has mapped out.

Unfortunately so far it seems that the stretch in the U.K. is one of the
only parts of the whole run that I cant find any crews !

- So if anyone want to lend a hand with crewing (basically transporting
the luggage from start to finish), running, and lodging or otherwise take
part in the stages I would really cherish it :-)

You can contact either me, jesper@worldrun.org, or Phil Essam,
pessam@bigpond.net.au.


U.S. schedule:

03/10 Long Valley
04/10 Morristown
05/10 Irvington
06/10 New Jersey City
07/10 East Manhattan at the UN Building, New York City.


Ireland:

11. Oct. Arrival at Shannon Airport, West Coast.
16. Oct. Dublin, East Ireland.


U.K. scedule:

Arrival from Dublin, at Liverpool Ferry Terminal or at Liverpool Airport.

17 Oct, 47.4km,
Arrive, Duddon, Bulls Head Public House.

18 Oct, 101.2km (cumulutative distances),
Arrive, Stoke on Trent.

19 Oct, 155.2km,
Arrive, Derby Service Area.

20 Oct, 206.6km,
Arrive, Kibworth.

21 Oct, 250.4km,
Arrive Kettering Travelodge (junction 13).

22 Oct, 303.4km,
Arrive Baldock travelodge - (roundabout prior).

23 Oct, 389.1km and 26 000km total,
Greenwich, London; at the 0-Meridian Line.





Reports

E-book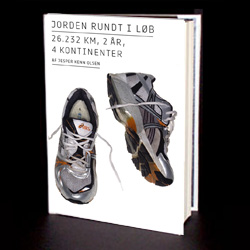 World Run book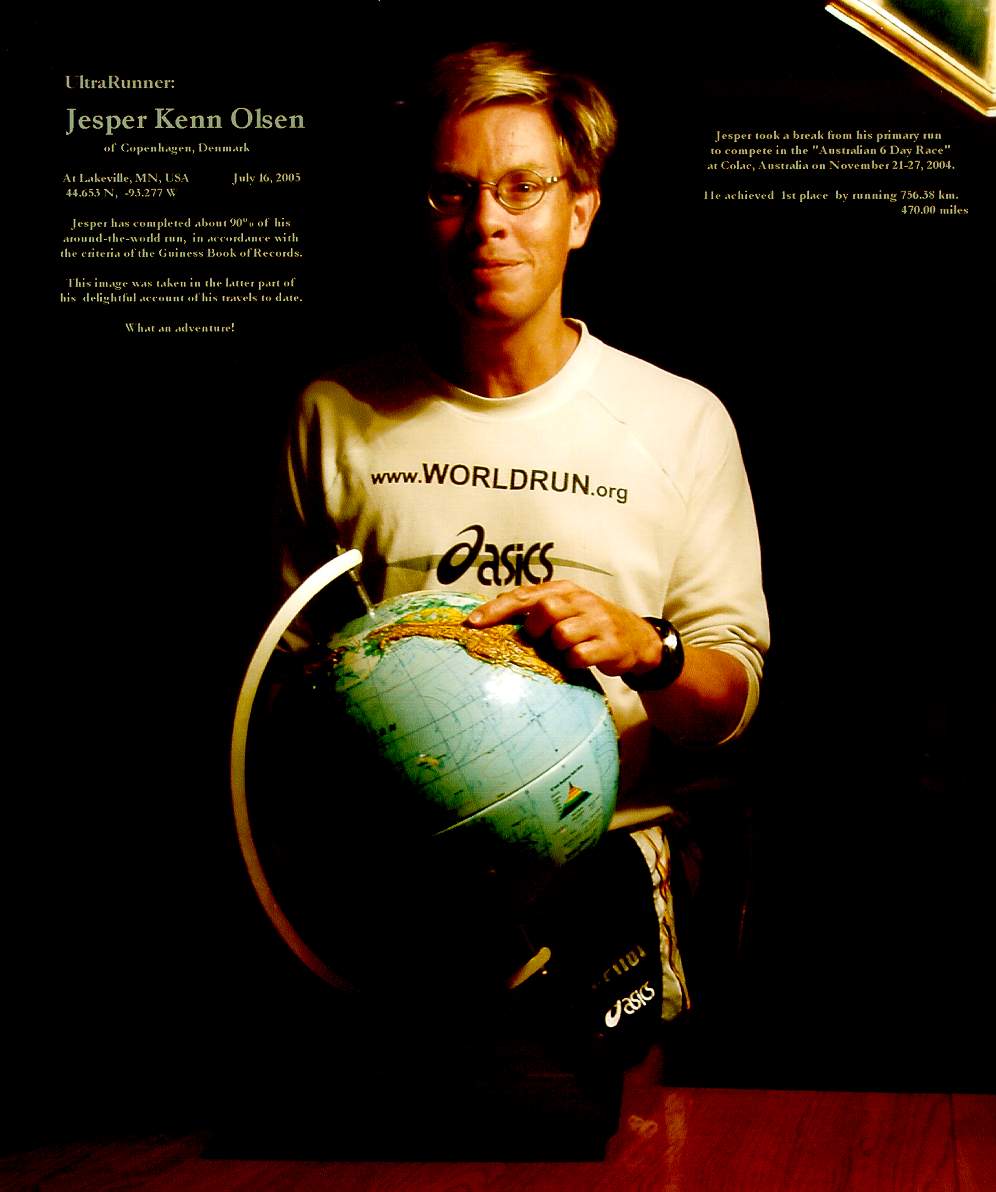 Lectures in english
Foredrag på dansk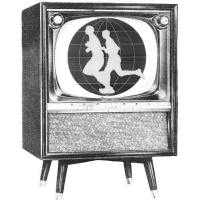 Media Coverage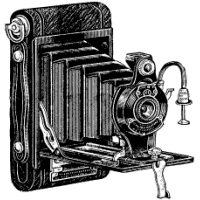 Photos