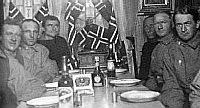 Media & Spectators
This page contains media information such as articles published by other internet media, our updated press-info, c.v.'s and contact adresses of the runners, and when the time comes for departure in 2004: Possibility to follow the runners by online-GPS.
Newspapers, radio & television:
*Danish main television (DR-1)
- Coverage in relation to the Training Camp 2002.
* BBC Radio (BBC Radio 5 Live, London, U.K.)
- General info' about the project.
* Various Newspaper articles
Links to Danish examples can be found here.
(Main newspapers "Berlingske, Jyllandsposten"; Sport & Health magazines "Sport & Helse", "IForm", life-style & youth-magazines "Balance, M!"; Outdoor magazine "Adventure World", etc.
* CBS Canada live:
- Several interviews with John Currie
Coverage by other internet-media:
- The beginning of the project
The Norwegian ultra-site "kondis.no"
Run 4 Fun (Main Danish website for recreational runners)
Our official press-info:
We send out the World Run Newsletter when there are important news about the World Run, it's participants, the route or other major issues.

The Newsletter is send to all our contacts, national & international, and if you would like to join the mail-list you are most wellcome. Please send an e-mail to info@worldrun.org, and we will keep you informed !
- Below you will find a link to one of them:
The December News-letter, 2002.