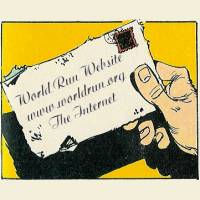 Previous News Hignigts
The Team arrived in Copenhagen at 29-02 2004 and now have 2 rest days. We are one day ahead of scedule. Next will be Sweden, Finland and then 7 months of hard running in Russia (Sibiria)
GPS-documenation system tested and getting ready for use
Allready we have had good support from Australia, Russia, Finland, Japan, Sweden and Germany with planning & private accomodation - Thanks !!
Hotel & flight tickets for London bourght - the start is getting near: 01-01 2004 in London
Update of Runners & Route pages
Jesper Olsen completes the 'duathlon' organizing and participating in Copenhagen 6-day race with a carefull 80km/day
Russian World Run member, Alexander Korotkov, completes "Lake Ilmen" ultra-race.
Danish World Run member Jesper Olsen takes 1.place in Danish 100km Championships (1.June 2003).
Pictures from the 2003 Camp & Stage Race in Russia now online !
The Russian Training Camp and 1500km Kazan-Moscow-St.Petersburg succesfully completed.
Our best wishes of a "Good Race!" to the participants in TransEurope Footrace of 5200km from Portugal to Moscow, starting 19 April 03.
Jesper Olsen: 07:44 hours in the European 100km Championships, Moscow (19.April 2003).
World Run participants stages open 6-day race in Copenhagen, August 2003: www.worldrun.org/6-day
Interview on Ultrafondus.com (French) - link in worldrun media section.
Alexander Korotkov takes 1.st. place in Velikiy Novgorod Marathon, 2:49 hours (September 2002).
Jesper Olsen takes 1.st. place and route record in Bornholm 100km, 8:07 hours (August 2002).
World Run decided to begin in 2004 in order to get full financial & accomodation backup.
Now over 50 000 visitors on the World Run website - Thank you for visiting us and we hope to bring you great experienses during the years to come
2004-06-27: Passed the border to East Sibiria at the river Yenitzej. Now compleated 7635 km.
2004-06-16: Now in Kemerovo Region, that meens pour GSM coverage and no GPRS for electronic documentation.
2004-06-02: Now compleated 6500 km since London.
2004-07-11: Now reached Irkutsk Oblast (region). Total distance 8066 km.
2004-10-10: Now reached Vladivostoc, and aproximately 13000 km since London.
2004-10-22: Now reached Kobe, Japan. After apx one week runnng in Japan, the World Run is ready for Australia.
2004-11-27: Jesper won "Cliff Young Australian Sixday Race" i Colac with 756.2 km.
2005-02-10: Indian Ocean reached. Australia Done!