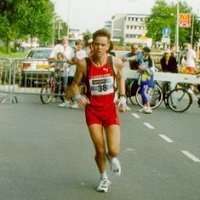 Jesper Olsen of Copenhagen, Denmark
For the statistics and numbers department there is the following data:
I was born in July 1971, 20km north of Copenhagen in the forrest and lake district. I stand 179 cm tall and is 70 kg's heavy.
I guess my athletic odysee dates back to my kinder-garten days. Where most other danish kids got placed in the indoors with comfort, heat and prefabricated toys... my parents decided that a new thing was to be tried. The outdoors-kindergarten. - And outdoors really ment outdoors all year; come rain, snow, sun or storm ! Those 3-4 years the kinder-garten age lasted, I walked the forrests of northern 'Sjælland' (one of the Danish islands) thin.
The deep forrests was enormous food for a childs fantasy and imagination ! We walked, played and RAN all day in those years in that kindergarten. From early morning to the sun went down again.
And I am quite sure that this founded my interest in longdistance running some 8 years later. But before this, I was to try most of the sport avalible in my neighbourhood: Tennis, squash, badminton, basketball, hockey, skiing, swimming, diving, cykling; yes even boxing ! But at the age of 13 I began training in the early morning before school. A 3km crosscontry as the sun went up. I found out that it was a very free and yet quite competitive sport. I fast grew fond of running with others - and ofcourse competing against eachother. But only at short distances. At that time a distance of 10km seemed almost incomprehensible and surely out of the reach of mere mortals. It is safe to say that much has changed since then.
Beginning the long runs
About one year after taking up athletics I dipped under 17 minutes for the 5 km - not a terrible fast time, but by danish standards a time that could win most races in the sub 16-years class. From there on I definately became fond of this sport.

But as allways I was keen on making long term plans raugther than week by week training. As 15 year old I decided that I would like to be a fast marathonrunner and began increasing my distance by some 20 km on the top weeks pr. year. I figured it would take about 5-7 years to reach the 200+ km pr. week wich I imagined would be the 'golden gate' to fast marathon time...yes you probably can guess - a true Arthur Lydiard discipel !
My first marathons were slow. I had desided to build distance slowly and ran only 70 km pr. week at my first marathon in 1985 - as 15 year old - and got the time 3:23 for the 42k. At the age of 23 and with about 230km pr. week I reached a resonable marathon time of 2:27 and placed fine at the national champs. on that distance. But it was never to be much faster for me. I made progress on 10k and ½marathon but the marathon milestone seemed set around 2:25 for my behalf !
Still I enjoyed running very much; both competing and training, so it was no disaster. Still I must confess that when I tried the 100km in 1999 - and set a new national record in my first attempt - I was very pleased to put it lightly. Soon after I became the danish 'national 1-man team' at the international championships; there were no other fast ultra-runners at that period. But from 2002 we have formed a national team to represent our contry in the World Challenge 100km & 24-hours events staged anually be the main body of International Ultrarunning; the IAU in association with IAAF.
My current pb. on 100k is 6:58 set at the World Challenge in 2000 (number 19 overall). In 2001 I tried my legs on the 24-hour event, and reached 223,7 km. Not quite what I had hoped for but still enough to place as number 12 at the European Championships and to make yet another national record. I think the 24-hour is a very special distance and I consider it harder than anything I have ever experiensed - including weeks with very high mileage and multiday races, as for example the 6-day race. You can recover during even heavy training and stage-running, wich is not the case during a 24-hour event.
Well; that was all runners talk. Belive it or not, I try to have a life besides the running - although running do hold a big place in my hart.
Life besides running
I like reading very much indeed. Philosophy, classical litterature, travel litterature, poetry.... Also light mountain climbing is one of my hobbyes. I have had my go at Mt. Blanc, 4807 meters, and last summer I went for a couple of week to walk in the Kaukasus mountains in the state of Azerbaijan; quite an expirience as many of the people in remote parts of the Azeri' areas has never seen tourists. On the way back I visited the huge and beautiful contry of Alexander Korotkov; Russia - what a training enviroment to have !
Educationally I have a bachelor degree in law and a masters in political science. - Why ? Well thats a long story. The short of it is, that after making the bachelor degree I got work at a law-firm. But it wasn't that interesting; so I desided to get another education while I still could; and began the political science study. After 1 year of study I got an offer to work at the univercity in the scientific research-group; and I have worked there since while finishing my masters degree.
In the field of work I have done everything from running with newspapers to having my own firm together with a good friend. In between I have been travel-guide; junior employee at a law firm, worked at a gas station and last dooing research & writings for political science reports. More or less you could say that I don't like to stay too long at the same place - good maybe, if you like to run around the world !
Another of my interests is surfing the internet hunting down information about ultra-events. For example I take great joy in following the Sri Chinmoy 3100miles in NYC each year.
Making new paths
Also I enjoy very much reading the books by the Scandinavians that travelled the arctic in the 18th. and 19th. century and raced for the discovery of the North Pole.... Knud Rasmussen, Peter Freuchen, Fridjof Nansen, Joregen Grönkjaer... I find much inspiration in those folks and I think that a project as ours have many similarities; although I with respect recoqnize that the conditions they endured up there was beyond imagination!
They were fourtunate people to be born in an age with land still to be conqueret. Lucky enough to have the fysique - brave enough to use it. Today our modern world is a very empty place in that way; despite marvelous tecnical and tecnological innovations. As I see it there is not much more left to do in the field of making new paths than go outside the Earth or - in fact to run the entire part of it !! That remains the last big challenge. When I found out that it hadn't been done before I was actually surprised. And fortunate !
Well that last part pretty much leaves us at the present moment; planning for the World Run ! And by the way getting more impatient by the day - But still plans need to be well made; if we are to have the slightest chance of succes.
I hope that we will reach our goals although they are very high indeed - as high as possible. But I believe that every challenge can be broken down to small daily steps, wich makes even the biggest journey possible to reach for by ordinary men like us.
With the wishes of a rewarding & demanding journey to all; sincerely yours, Jesper Olsen, Copenhagen; Denmark.
---
You can visit my Danish ultra-running site at: Ultra-dk
Quote:
"Coming from a small contry don't necessarily mean that you have to develop a small mind :-)"