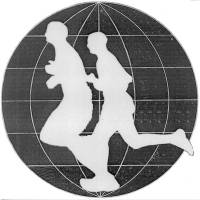 Introduction to the World Run
The idea of running one full lap of the Earth is one of the few remaining challenges that has yet to be conquered by mankind. In our eyes this quest shares the same basic attraction that enticed the geographical explorers of the past few centuries: To go where no other man has yet gone. To the North Pole, the South Pole; to the highest mountains or into the deepest wilderness.
These geographical challenges have long since been conquered. But in the field of athletics there is still one major challenge - To perform a continuous run around the entire planet that we all share as our habitat. A run of 26000 km's !
Some attempts have already been made to do this, but none of them has yet succeeded. Actually it was the discussion amongst proven ultra-runners that made us come forward with the suggestion that the best response from the ultra-society would be to show that a truely documentet and watertight World Run is indeed possible.
Documentation, reliability and integrety is key issues in this attempt to be the first around the globe. Essential is usage of technology wich will enable observers to follow us 'online' during the run.

We aim, wherever possible to participate in local endurance runs as we pass through each area, to expose us to spectators and to bring greater awareness to the ultra-sport which is still in it's growing stage. We have for instance made contact with officials from the Australian 6-day race; in which we plan to participate in during our run around the globe.
Furthermore we feel that this challenge has to be dealt with as a group including runners from different nations; mainly because running the Earth is worth much more than a self-satisfying solo- adventure and certainly so during times of international unrest. Some participants will be in for the full distance; others are high-level local ultrarunners invited to specific parts of the route.

Running as a cohesive unit will enable us to draw support from each other, but equally important, we will as seasoned competitors eagerly watch that no one makes deviations from the route or takes too long 'off-periods' which has proven a fatal problem for other attempts.
During 2002 & 2003 we will do our last physical & motivational preparations as well as have some meetings with the press. Allready we have had a 3-week '50km-a-day' training camp in Copenhagen, Denmark, in 2002, where the runners had a chance to meet and discuss the details. Link to the Training Camp here.
In 2003 there is further testing as well as participation in a stage-race along stretches of the Russian World Run route.
The beginning of the World Run will be at the 1. of January, 2004, from the Greenwich time meridian in London; UK., wich is where our route starts.
Contact: World Run coordinator Jesper Olsen