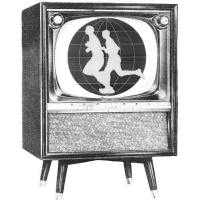 TRARALGON HARRIERS REPORT
World record challenger supported by Harriers
World record challenger Jesper Olsen ran through Gippsland last weekend, (13 – 14 November) as part of the Australian leg of a two-year, 26 000 kilometre attempt to be the first person to circumnavigate the world on foot.
Olsen and Russian Alexander Karatkov left from Greenwich, near London, on January 1st this year, running east across Europe and the former Soviet states.
Joined by Japanese ultra champion Kazuko Kaihata, the three ran, and pushed a heavily laden three-wheeled baby stroller, across the Siberian wastes. The Japanese woman signed off after they crossed her home country, as planned, and Karatkov withdrew with exhaustion before Olsen flew to Australia.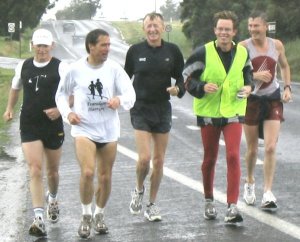 Alone, Olsen left Sydney at the end of October, running with his lightened stroller through Canberra and the Snowy Mountains to reach the coast road at Cann River on November 8th.
Leaving Sale last Saturday morning, Olsen reached Traralgon that afternoon and ran on to Warragul the next day.
Members of the Traralgon Harriers ran with Olsen from Flynn through to Warragul. Other members of the ultra-running fraternity provided a support vehicle and overnight accommodation.

Monash student Nicole Morrison provided the greatest length of moral support, running with Olsen on Sunday from Hernes Oak all the way to Warragul – about 36 kilometres!
Harriers runners were relieved to see Olsen's three-wheeler stowed in the support car on Sunday, after pushing it along the highway the previous day – even though Olsen made it look easy.
When asked why he was attempting the run, Olsen said it was for a number of reasons.
"I would like to be the first person to run around the world, and establish the record " he said.

"Also, because it exists as a challenge, like reaching the South Pole – achieved by my fellow Scandinavian, Roald Amundsen!"

"It is a mountain to be climbed!"

"And there are not many new challenges left," the thirty-something Dane explained, breathing comfortably as loped along the freeway.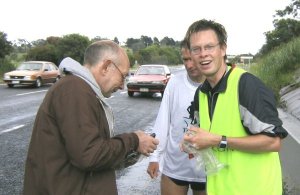 With 14 000 kilometres in his log book Olsen is over halfway to achieving the record. He has to connect back to his starting point, and run at least 25 000 kilometres, across a number of continents.
He keeps meticulous records of his run. At Traralgon he stood in the rain and took GPS readings and photographs, to transmit immediately by phone as evidence of his location and distance travelled for that day.
Companion runners and support crew, when he has them, also sign off on distances they are able to verify.
The holder of numerous national ultra-distance records, Olsen has a master's degree in political science, and works part time as a research assistant. He showed a keen interest in the economics of Australia and the Valley, as well as freely discussing his other great love, running. A distance running coach at the Danish Institute of Sport, the sub-two hours twenty-five marathon runner believes people need a variety of different interests, to provide a balance.
Despite an official dinner and promotional obligations in Melbourne, Olsen will still run every day, reaching Colac on the 20th of this month.
There he will run the Cliff Young memorial six-day race, before continuing to Adelaide and across the Nullarbor to Perth.
After Perth he will fly out to Canada and run along the USA-Canada border to the east coast, then down to New York.
His epic run can be followed on his World Run web page, www.worldrun.org.
Submitted by Barry Higgins 5174 3712 / 5174 6931 bhiggins@vic.australis.com.au
15 November 2004