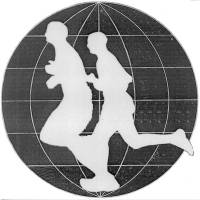 Introduction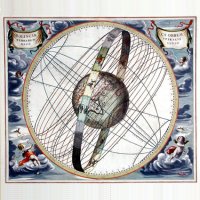 Principles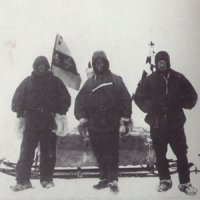 Runners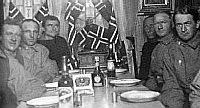 Media

Route Info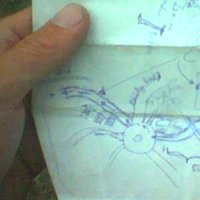 Progress Map
Event Calender
Links
RICHARD MACKENZIE photo

Jesper Olsen (left) and Peter Rietveld made Golden a stop on the World Run.
By Richard MacKenzie
Star Reporter
May 11 2005
DENMARK'S JESPER OLSEN made a very quiet stop in Golden last week. With no fanfare, he spent the night in a local hotel and then continued on his way east, on the Trans-Canada Highway.

Olsen's journey may be moving along silently, but you can be assured that once he completes his trek, it will be across a well-exposed finish line.

Olsen is nearing the completion of a project called the World Run, which is, as the name suggests, a continuous run around the globe. The feat, never accomplished in the past, will encompass a total of 26,000 km.

The 32-year-old Dane started his run January 1 of 2004 in Greenwich Village in London, England. The site was chosen because it is home to Greenwich Mean Time, which is the basis by which all other time zones are measured.

His run proceeded south to Paris, north through the Scandinavian countries and across Russia. Following a stop in Tokyo, Olsen flew to Australia, ran from Sydney to Perth and then flew across the ocean to Los Angeles.

Rather then continue through the U.S., Olsen ran north to Vancouver and will proceed east to Montreal before heading south to New York. From there he will fly to Glasgow, Scotland and complete his run back to London.

Olsen says the decision to run through Canada was an easy one considering the warm reception he knows he can expect from Canadians. He says he and current running partner, Peter Rietveld of the Netherlands, have already got a taste of Canadian hospitality during their run across B.C. "We motioned to the truck drivers in the U.S. and they ignored us. In Canada, they always sound their horn," he said.

The duo also got a taste of Golden hospitality after being supplied with a few refreshments by the local IGA. "Everything is appreciated," Olsen says. "And it is not just the gestures, but the interest in the run."

Rietveld, who is participating only in the North American part of the run, says he chose this leg specifically because it weaves through B.C. and Canada.
"I am preparing for a fundraising run next year and I wanted to run in Canada, so I arranged to meet Jesper in B.C. and actually picked him up in Abbotsford," said Rietveld.

He added that the chance to run alongside Olsen during the execution of this amazing feat was also a major inspiration. For Olsen, the motivation is simple. Accomplish the World Run because it has never been done.

"Some attempts have already been made to do this, but none of them has been successful."

"Actually it was the discussion amongst proven ultra-runners that made us come forward with the suggestion that the best response from the ultra-society would be to show that a truly documented World Run is indeed possible."

Possible became more probable as Olsen and Rietveld ran through the parking lot of the Ponderosa Motor Inn, pushing their small bundles of clothes and food in baby strollers on their way to Field.

Next stop: history.